November 12, 2021
Saving the lungs of the planet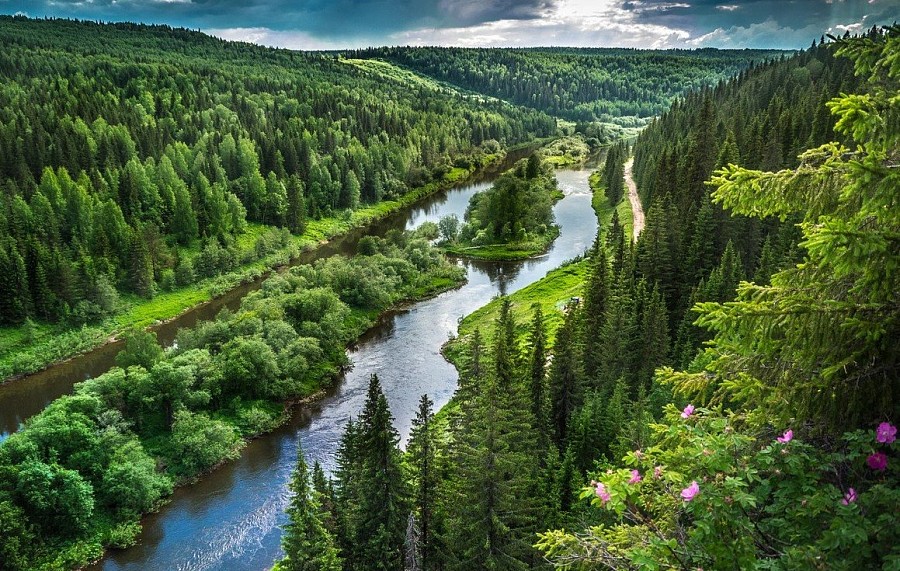 On November 2, 2021, 110 countries signed a Declaration on the Protection of Forests at the climate summit in Glasgow. It became one of the three main documents adopted during the meeting, and the only one signed by Russia.
Why is this so important?
Forests cover about 30% of the land, but 80% of terrestrial plants and animals living on the planet are concentrated in them. Forests play a crucial role in combating climate change by absorbing and processing carbon dioxide and producing oxygen. In addition, three-quarters of fresh water comes from forest areas, including to cities such as Vienna, Tokyo, Johannesburg or Bogota.
Forests play a huge role in the fight against poverty. They are the source of existence for 2 billion. human. We are talking about jobs in forestry, as well as directly gifts of the forest: mushrooms, berries, hunting grounds, wood, which is used for harvesting firewood and housing construction in rural areas.
What threatens us with the loss of forests?
Deforestation is the second major cause of climate change after the burning of fossil fuels. In addition, deforestation leads to soil erosion and a reduction in clean water supplies. Reducing the area of forests endangers the lives of animals for which they are home, and therefore leads to a decrease in biodiversity on the planet.
Another not obvious, but noticeable consequence will be an increase in the noise level, since trees serve as natural sound filters.
Harsh climate with unstable moisture content, lack of drinking water, poor ecosystem - that's what awaits humanity if we do not take measures to preserve forests in the very near future.
Every year we lose several million hectares of forest. There are many reasons for this. There is also a natural decline as a result of pest damage, hurricanes, floods, forest fires that started as a result of extreme heat or a lightning strike, but the main reason, of course, is human activity.
According to the calculations of the International Institute of World Resources and the World Conservation Monitoring Center, over the past 8000 years, almost half of the once existing forests have been destroyed, 75% of this amount falls on the XX century. Of the remaining, only 22% consist of natural ecosystems, the rest have been greatly modified as a result of anthropogenic impact. Logging for the sake of timber extraction, clearing land for agriculture, fires that have arisen due to human carelessness - this is not a complete list of factors that result in fewer and fewer forests on the planet.
Of course, this worries everyone who cares about our future. The Declaration on Forest Protection was signed by 110 countries, on the territory of which 85% of the world's forests are concentrated in total. Among them are Russia, Brazil, Great Britain, Indonesia, China, USA, Turkey, Sri Lanka, Japan, African states, the EU and Oceania. Russia ranks first in the world in terms of forest area. It is about 809 million hectares (8.09 million km2). This is 46.6% of the country's territory and about 20% of all forests in the world.
The States that supported the declaration stated that they intend to work in several directions. These are active actions to accelerate the restoration of forests, the development of new trade practices that would promote sustainable development and lean manufacturing. In addition, the countries intend to develop and implement incentive programs in the field of agriculture that would take into account environmental protection issues, as well as increase the amount of funds allocated for forest protection.
Forests are one of the main riches of Russia and one of the main factors on which the country is betting on the transition to a carbon-neutral economy by 2060. "We are taking the most serious and energetic measures to preserve them, improving forestry management, fighting illegal logging and forest fires, increasing reforestation areas, consistently increasing funding for these purposes," President Vladimir Putin said in his video message to the summit participants. Since 2010, the area of forests in the country has increased by 4.3 million hectares.
The declaration was also supported by representatives of large private corporations and international funds, in particular, the head of Amazon Jeff Bezos and representatives of 9 world development banks. They promised to allocate funds for forest protection measures and take into account the need to protect nature when allocating investments.
Read more
November 19, 2021
You and I are of the same blood
Coronavirus affects not only people, but also animals. Which of them becomes his victims more often than others and what does it threaten others?