November 29, 2019
The best jewelry in Russia
We are pleased with the abundance of original jewelry in the ethnic style associated with the culture of the peoples of Russia, the appeal to the deep history of our country. Perception of form, combined with imaginative vision, has always been peculiar to domestic artists-jewelers. The ornaments invented by them begin to live in the images of certain characters. Recently, the range of thematic areas of such designer collections has expanded significantly. At the same time, almost every jewelry company, participating in the competition program, is actively engaged in the search for new technological and color solutions, anticipating the tastes of buyers.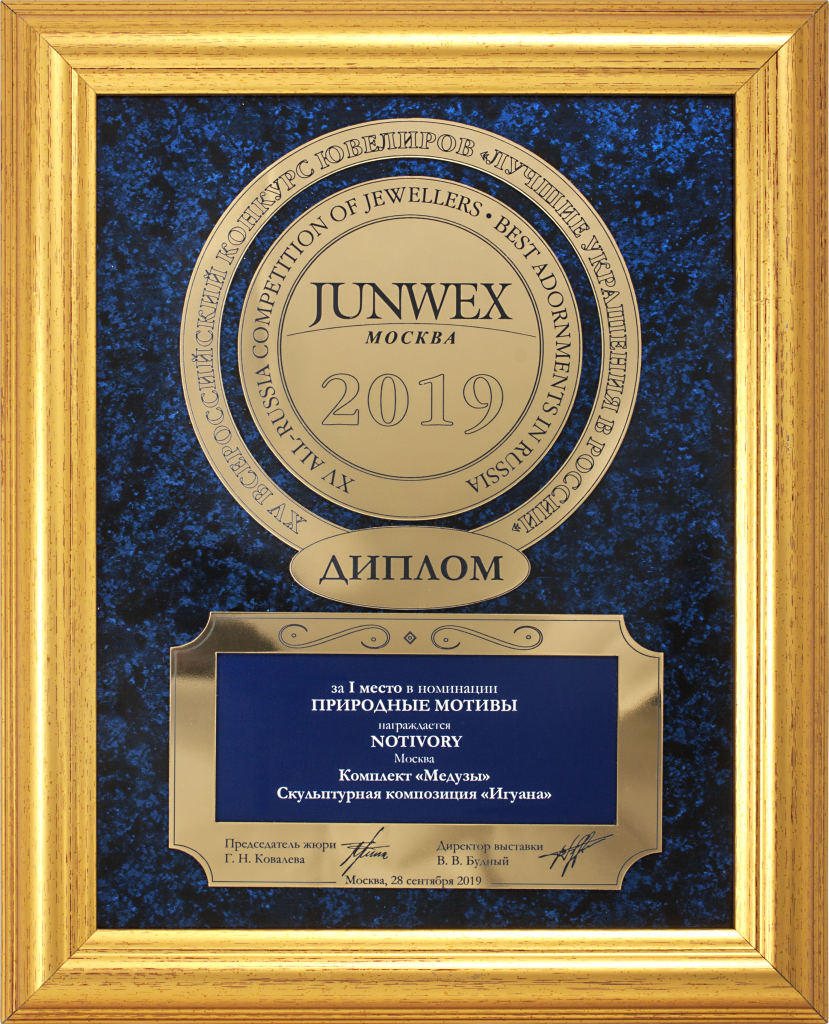 For the first place in the nomination "Natural motives" the Notivory brand (Moscow),which created a set of "Medusa" and a sculptural composition "Iguana", is awarded with a diploma. The originality and boldness of the solution of the kit lies in the unusual balance of materials, as well as in the use of artistically expressive mammoth Tusk in only one of the three items. At the same time, the purity and delicacy of the processing of this ancient material, the shape of the inserts are harmoniously combined with the carved translucent pink opal — dominant in the earrings and adorning the Central part of the bracelet. Carved from a single piece of mammoth Tusk sculpture-iguana sitting on a stone-masterfully executed work. The realistic interpretation of the figure, the selection of materials in the composition and its construction as a whole demonstrate the extraordinary talent of the author.
Read further
Source: JUNWEX
Read more
November 21, 2019
Notivory Art: Art that speaks of the problems in our oceans
The Notivory Art jewellery brand promotes respect for the environment and the use of mammoth tusks as an alternative to the use of ivory in jewellery and other art. From November 27th to December 1st, they will take part in the Russian Antique Salon exhibition for the very first time.