This year, the Main Botanical Garden named after N. V. Tsitsin of the Russian Academy of Sciences, together with the Notivory Environmental Foundation, collected a rich harvest of rare apple varieties in the center of Moscow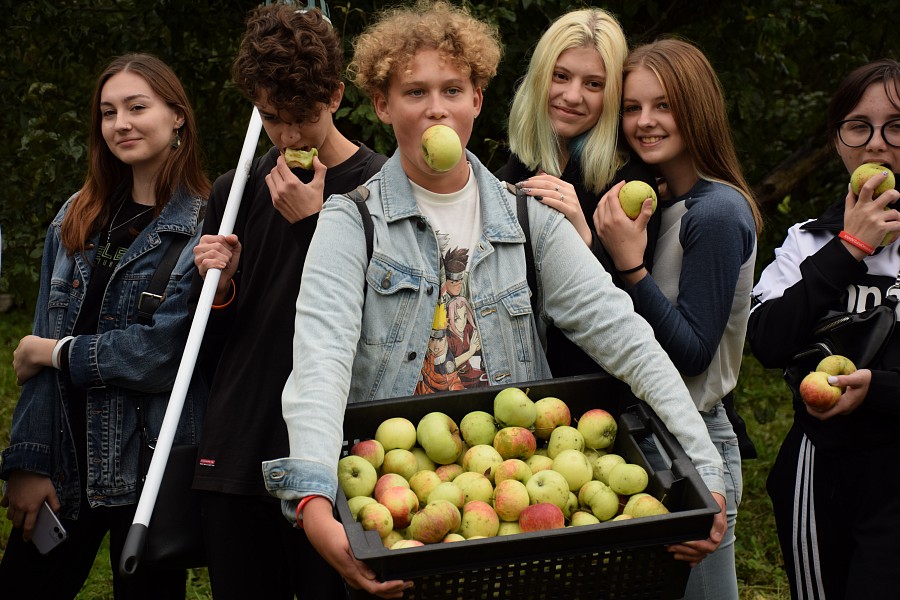 Last Saturday, the Notivory environmental foundation helped the botanical garden to hold a charity event "Apples for Children", during which pupils of social institutions and volunteers were invited to take part in the harvest. It turned out that many of them have never plucked apples from trees and do not know what devices are needed for this. The participants of the action received fruit collectors, ladders, boxes and together collected more than two tons of fruit.
- "Picking apples is very inspiring, we have already collected 3 baskets, they are all delicious and different. We didn't even know about some varieties! It is an ideal lesson for a Saturday morning, " the guys from the G. I. Rossolimo Center for Promoting Family Education noted.
The campaign "Apples for children" brought together about 300 people. High school students of Moscow schools, and even pensioners helped children in collecting healthy fruits.
– "We collected winter varieties of apples, of course, we have already tried them. Delicious! We have collected a lot, we are tired, but we are happy. We hope to take part in this action next year, " commented Larisa Lebedeva, the teacher-organizer of Moscow school No. 667.
The fruits will pass mandatory certification and will be sent to family education assistance centers and support and rehabilitation centers for disabled children. But, more importantly, the event brought the children together and allowed them to spend the weekend in a festive atmosphere, doing an exciting and, at the same time, useful activity. It is a great success: to see live what is not available to them in ordinary life.
- "Today we were picking apples with new friends! We and the guys from other institutions of our city. We collected them for everyone, for experience, for mood! It was cool, it was friendly, it was fun, " the director of one of the children's educational institutions shared his emotions.
The territory of the apple orchard, where, as a rule, only scientists work, was opened for children for the first time.
- "Taking care of nature is not about duty, but about benefit and unification. On the way to the formation of ecological culture in society, the Foundation has teamed up with the Sayano-Shushensky Nature Reserve, which helped us to hold this charity event. Our main task is to tell and teach how to take care of nature with ease and pleasure. The "Apples for Children" campaign is a clear example of how the environmental agenda can become a holiday that gives smiles to people of all ages. We definitely want to hold this action again, and again. And it's even better every year!", said Margarita Kunkova, a spokeswoman for the Notivory Environmental Foundation.
The Notivory Environmental Foundation expresses its great gratitude to all the participants of the action and wishes them happy days!
A photo report from the charity event "Apples for Children" is available for download
at the link
Instagram of the Foundation:
notivory.foundation